Um
Fishburger
é um tipo de comida do
Club Penguin
.Durante a
Festa da Água de 2007
e na
Festa da Água de 2008
,uma barraca de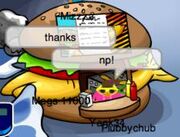 fishburgers estava localizada na
Praia
.No entanto,na
Feira de Outono 2008
e na
A Feira 2009
,a barraca estava localizada na
Mina
.No Catálogo
Melhore Seu Iglu
temático da
Festa Setembrina 2011
há um item que é uma barraca de fishburger.O item pode ser alterado em uma barraca de sorvete,uma barraca de coquetéis e uma barraca de geléia,e pode ser posto no seu iglu.
Na Missão Secreta Nº 8,na sala de apetrechos,tem um microondas.Se você abri-lo,você vai ver um fishburger.
Apareceu na Penguin Times edição 98.
Ad blocker interference detected!
Wikia is a free-to-use site that makes money from advertising. We have a modified experience for viewers using ad blockers

Wikia is not accessible if you've made further modifications. Remove the custom ad blocker rule(s) and the page will load as expected.