Empilhe a Pilha
é um mini-game do site Club Penguin que pode ser jogado quando você clica no saco de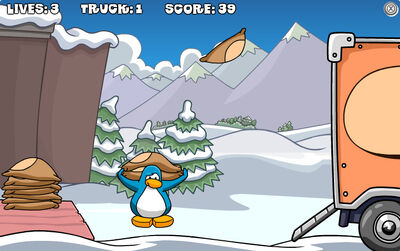 café no chão no Café.O objetivo do jogo é empilhar o máximo de sacos de café que você conseguir que são jogados por alguém de um caminhão.Porém,a pessoa(ou melhor,pinguin)que fica jogando os sacos de café também fica jogando acidentalmente ou intencionalmente bigornas,peixes e vasos de flores.Você precisa desviar desses objetos,ou ao contrário você pode perder uma vida.Do caminhão também são jogados vidas extras,que se você pegar ganha uma vida adicional.São ao todo 5 caminhões,ou seja,5 níveis,e a cada nível aumenta o grau de dificuldade.Você não pode segurar mais de 5 sacos de café,ou você pode também perder uma vida.Se você conseguir completar todos os níveis,você ganha um bônus extra de 60 moedas.
O seu pinguin deve recolher o máximo de sacos de café possiveis,sem nenhum obstáculo.
O mesmo processo do nível 1,só que passam a ser jogadas bigornas do caminhão.
Dessa vez o pinguin precisa recolher sacos de café e desviar tanto de bigornas quanto de peixes crus
Continua o mesmo processo.Mas uma dica:vasos de flores não são nem um pouco macios para serem jogados em cima de alguém...
É quase impossivel recolher sacos de café enquanto você tenta não ser acertado por bigornas,peixes crus e vasos de flores voadores!
Se você continuar segurando os sacos de café quando um caminhão é completamente descarregado,se você levar os sacos de café até a plataforma antes do início do próximo nível você ganha 50 moedas por cada saco descarregado.
Ad blocker interference detected!
Wikia is a free-to-use site that makes money from advertising. We have a modified experience for viewers using ad blockers

Wikia is not accessible if you've made further modifications. Remove the custom ad blocker rule(s) and the page will load as expected.